Are Diamonds a Safe Haven?
Investors look to alternatives as traditional safe havens tank


The coronavirus pandemic is quickly spreading across the world. Not only has the escalation of the virus placed incredible strain on healthcare systems worldwide but the catastrophic impact has also reverberated across global markets. March 2020 saw the end of the longest bull run in history (Business Standard, 2020), with fears of a global recession prompting unprecedented plunges. The move by the US Federal Reserve to cut interest rates and quantitative easing (Washington Post) is signalling the direness of the economic fallout rather than assuaging fears. Investors are rightly fleeing from equities and turning to safe havens to hedge against this unprecedented market volatility.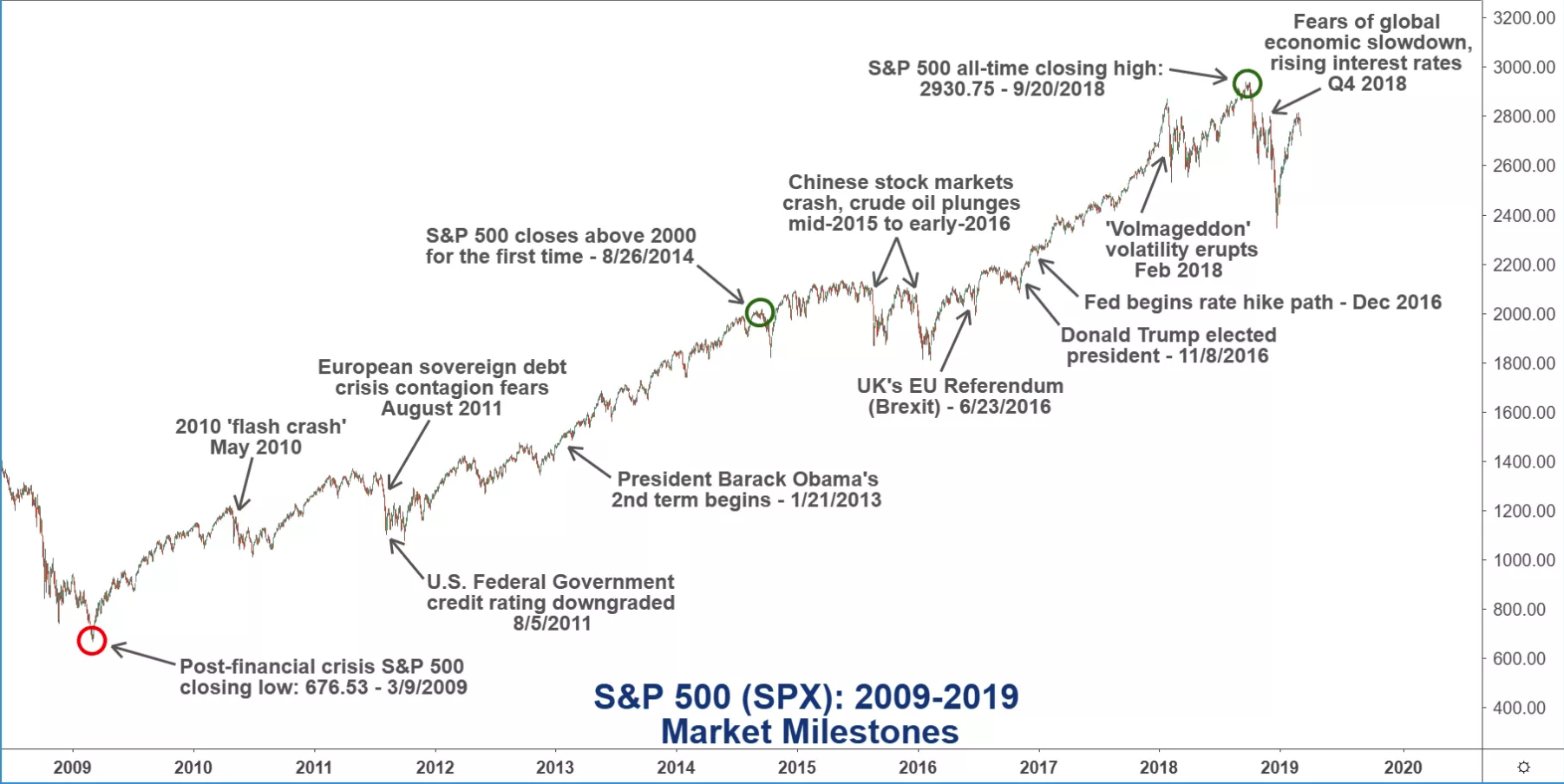 It is exactly in these uncertain times that investors should reassess what can store value and long-term yields. With equity markets under such extreme pressure towards liquidity, not even traditional safe havens have been immune to volatility. As more and more investors seek refuge in bonds, yields are pushed to sharp lows. Gold prices hit a seven-year high a few weeks ago (SCMP, 2020), only to experience its worst fall since 1983 at 8.3% during the sharp selloff in S&P 500 last week (Kitco, 2020). By sharp contrast, diamond prices have remained unchanged amidst weeks of intense volatility. In times of such extreme market stress, could diamonds actually be the more suitable safe haven?


Price Stability


In fact, diamond prices tend to be more stable than gold prices. Where gold and equities are seen to share a weak correlation, diamonds are uncoupled from equities altogether. Rarely moving in tandem, diamond prices stand independent to local market changes and daily fluctuations in the stock exchange. Instead, modern diamond pricing is pegged to long-term supply and demand with an internationally standardized and transparent evaluation system. This inversely proportionate relationship means that as supply reduces, diamond prices increase. This stable relationship and independence from the volatility of local markets and the stock exchange renders it a safe haven during liquidity squeezes.
A diamonds independence from the stock exchange also provides protection from extreme government measures in times of crisis. As of March 2020, the Philippines was the first country to halt all bond, stock and currency trading in a drastic move to curb the impact of the Coronavirus. A controversial move focused on the protection of its citizens, has left investors frustrated and constrained. This is a rare but not unprecedented move, as other countries such as the US, Greece and HK have also taken such measures in past (SCMP). Diamonds have the advantage of being a high value investment that isn't coupled with equities. This means that your investment decisions are yours to control no matter the decisions of local government.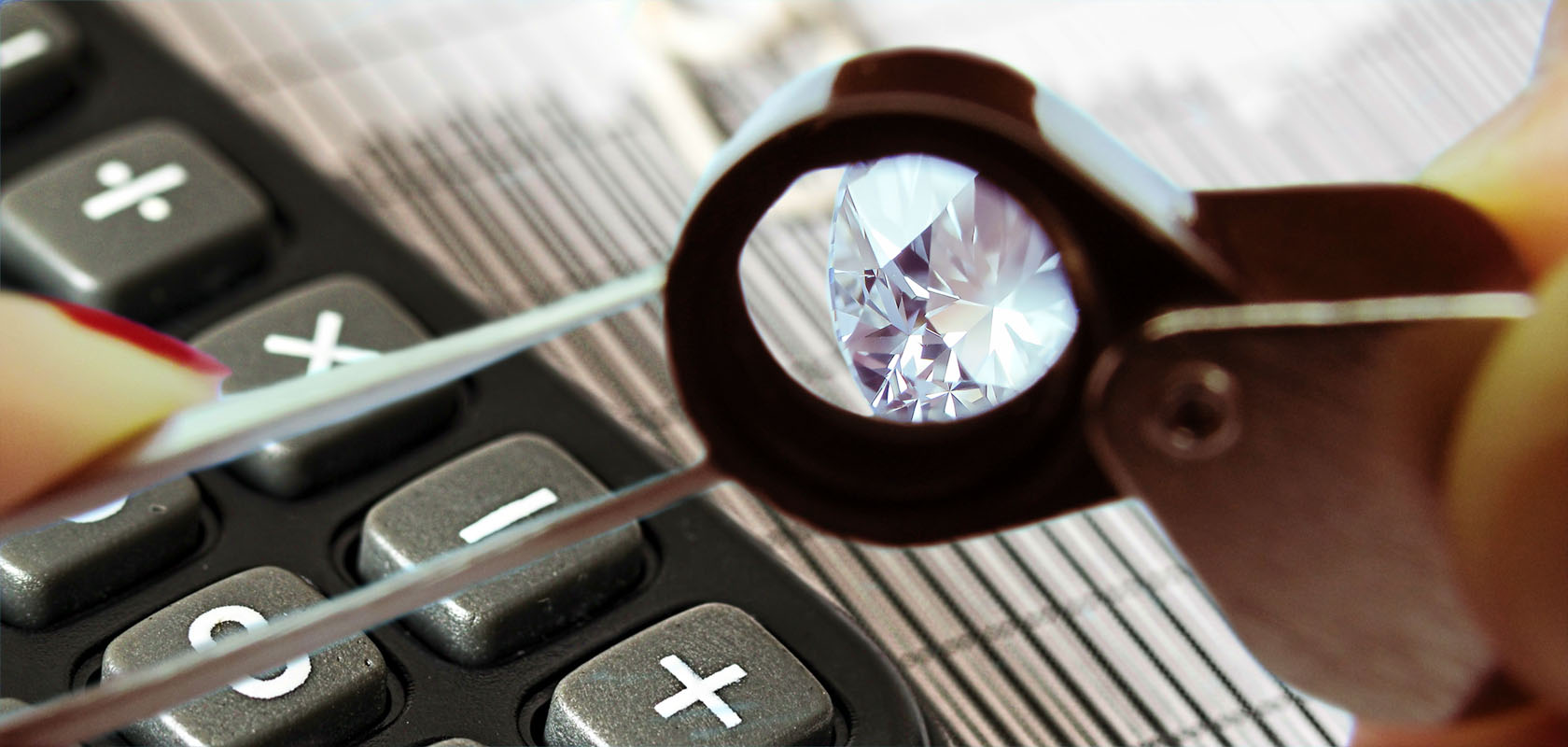 Movable Investment


The coronavirus pandemic has also brought issues of cross-border movement to the forefront. Unlike conventional low-risk investments like gold and real-estate, diamonds are a tangible asset that is very easily transported. A holder of high intrinsic value in a very small form, they are the ideal asset during rapid upheaval. During times like these, when cross-border movement can suddenly be necessitated or restricted, diamonds can be quickly taken or kept with you wherever you are. These investments are also not bound to a particular region and are not governed by any regulations or registration requirements. This value will be upheld across the globe and can be liquidated at any time without tax on the value gains of the investment.


Maximised Yield


Though commercial diamonds are not, investment-grade diamonds are becoming increasingly rare as supply depletes and mines close (Investing News, 2019). Even if a mine were to be discovered, it still takes a further 10-15 years for the mine to start producing rough stones. This guarantees a high potential for long term growth in investment-grade diamonds and that the value will be upheld through the generations. This has become particularly apparent as major mines such as the Argyle mine in Australia continue to suspend operations.
Diamonds are also incredibly sturdy and durable. Unless subjected to extreme circumstances, they will not lose their colour, shape or value. This differs from either real estate investments that require substantial upkeep or even valuable artefacts that need controlled lighting and air quality. This also differs from other luxury goods such as cars, that lose their value over time.


Long-Term Outlook


When investing in diamonds, you are playing the long game. It's not for investors looking for high risk and quick returns. Diamond investment is about conserving substantial wealth for future generations. Jörg Lindemann, managing director of Germany's federal association of the gemstone and diamond industry says that 'diamonds are not a means for fast gain, it is more like investing in paintings and valuable artefacts'. With increasing market uncertainty in regards to Covid-19, these low risk forms of investment are the best way to secure your wealth and diamonds have been proven to have a high resilience to currency reforms, inflation and financial crises.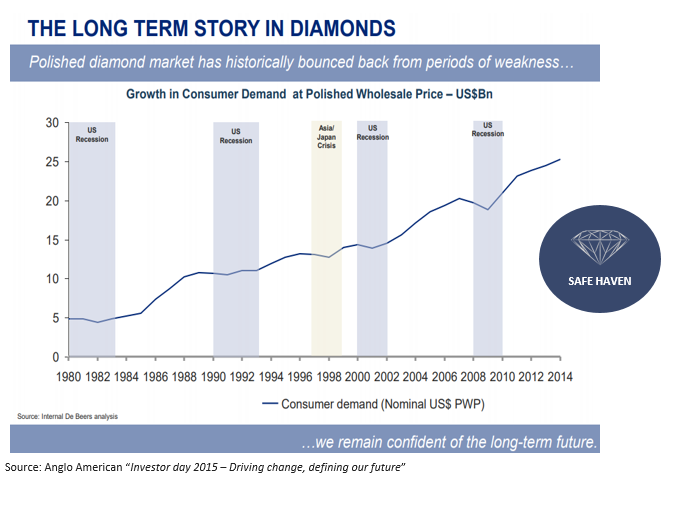 The Real Safe Haven
All these characteristics render diamonds the ideal safe haven during times of economic turmoil. With the unprecedented conditions of the current market, a safe haven is needed to conserve value. This stability and security is what investors are searching for as the economy crumbles beneath the pressure of global health emergencies. Covid-19 has the potential to collapse the housing market, devalue currency, encourage company closures and bankruptcy but none of these can undermine the long-term value of a diamond.
If you would like to understand more about diamond investment and the current market contact Bee's Diamonds, Asia's leading diamond investment advisors.


References
Chen, James. "Market Milestones as the Bull Market Turns 10." Investopedia, 2019, www.investopedia.com/market-milestones-as-the-bull-market-turns-10-4588903. Accessed 18 Dec. 2019.
Long, Heather. "Federal Reserve Slashes Interest Rates to Zero as Part of Wide-Ranging Emergency Intervention." Washington Post, 16 Mar. 2020, www.washingtonpost.com/business/2020/03/15/federal-reserve-slashes-interest-rates-zero-part-wide-ranging-emergency-intervention/.
Murdoch, Tom Westbrook & Scott. "Coronavirus: How the Longest Bull Run in History Ended in Pandemic Panic." Business Standard, 14 Mar. 2020, www.business-standard.com/article/international/coronavirus-how-the-longest-bull-run-in-history-ended-in-pandemic-panic-120031401098_1.html. Accessed 17 Mar. 2020.
Williams, Georgia. "Diamond Outlook 2020: Tough Year Highlights Value Plays | INN." Investing News Network, 26 Dec. 2019, investingnews.com/daily/resource-investing/gem-investing/diamond-investing/diamond-outlook/. Accessed 17 Mar. 2020.
Wyckoff, Jim. "Gold, Silver Prices Collapsing amid Markets Panic -." Kitco News, 16 Mar. 2020, www.kitco.com/news/2020-03-16/Gold-silver-prices-collapsing-amid-markets-panic-sell-what-you-can.html. Accessed 17 Mar. 2020.
Yiu, Enoch. "Hongkongers Rush to Sell Jewellery as Gold Price Soars amid Virus Outbreak." South China Morning Post, 15 Mar. 2020, www.scmp.com/business/commodities/article/3075259/customers-return-hong-kongs-protest-hit-jewellery-shops-sell. Accessed 17 Mar. 2020.
"Philippines Is First Country to Shut Financial Markets amid Pandemic." South China Morning Post, 17 Mar. 2020, www.scmp.com/news/asia/southeast-asia/article/3075494/philippines-closes-financial-markets-indefinitely-response. Accessed 17 Mar. 2020.